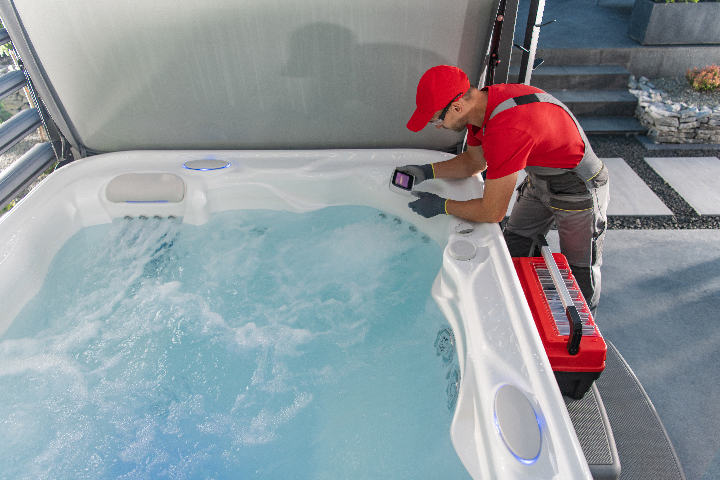 A New Homeowner's Guide to Proper Spa Maintenance
Learn how to maintain your spa as a new homeowner, ensuring a safe and enjoyable experience while prolonging the life of your investment.
Congratulations on your new home and the exciting addition of a spa! Proper spa maintenance is essential to ensure a safe, clean, and relaxing environment for you and your guests. In this guide, we'll walk you through the essential steps to maintaining your spa, from water chemistry to cleaning and equipment care.
Test and Balance Water Chemistry
Regularly testing and balancing your spa's water chemistry is crucial to prevent bacteria growth, ensure the effectiveness of sanitizers, and protect your spa equipment. Use a reliable test kit or test strips to monitor the following parameters:
pH level: The ideal pH range for a spa is between 7.4 and 7.6. A pH level outside this range can cause skin irritation, affect sanitizer efficiency, and damage spa equipment.
Alkalinity: Maintain an alkalinity level of 80-120 parts per million (ppm). Alkalinity serves as a pH buffer, preventing sudden fluctuations that can affect water quality.
Sanitizer levels: The two most common sanitizers for spas are chlorine and bromine. Follow the manufacturer's guidelines to maintain the appropriate sanitizer level for your spa. Chlorine levels should typically be between 1-3 ppm, while bromine levels should be between 2-4 ppm.
Clean and Replace Filters
The filter system in your spa is responsible for removing dirt, debris, and contaminants from the water. Regularly cleaning and replacing filters will keep your water clear and extend the life of your equipment:
Rinse the filter with a hose or under running water every 1-2 weeks to remove debris.
Deep clean the filter using a filter cleaner every 2-3 months, following the manufacturer's instructions.
Replace the filter cartridge every 1-2 years, or as recommended by the manufacturer.
Drain and Refill the Spa
Over time, the water in your spa can become saturated with chemicals, making it difficult to maintain water balance. Drain and refill your spa every 3-4 months, or more frequently if you use it often:
Turn off the spa equipment and unplug it.
Attach a garden hose to the spa's drain valve and open it to release the water.
Once the spa is empty, use a soft cloth or non-abrasive sponge to clean the interior surfaces. Avoid using harsh chemicals or abrasive tools that may damage the spa's finish.
Close the drain valve and refill the spa with fresh water.
Test and balance the water chemistry before turning on the spa equipment.
Clean the Spa Cover and Maintain Waterline
Regular cleaning of the spa cover and waterline is essential to prevent the growth of mold, mildew, and algae:
Clean the spa cover every 1-2 months with mild soap and water or a dedicated cover cleaner. Rinse thoroughly and let it dry before placing it back on the spa.
Wipe the waterline with a soft cloth or non-abrasive sponge weekly to remove scum and buildup.
Regularly Inspect and Maintain Equipment
Check your spa's equipment, such as the pump, heater, and plumbing, for any signs of wear or damage. If you notice any issues, consult a spa professional for repair or replacement:
Listen for unusual noises from the pump or heater, indicating potential problems.
Check for leaks around the equipment and plumbing connections.
Ensure that the water flow and jet pressure are consistent and strong.
As a new homeowner, proper spa maintenance is essential to ensure a safe, clean, and enjoyable environment for you and your guests. By following these steps, you can prolong the life of your investment and maximize the benefits of owning a spa.
Shock Your Spa
Shocking your spa is an essential part of maintenance that helps remove contaminants, kill bacteria, and improve the overall water quality. Typically, you should shock your spa once a week or after heavy use:
Follow the manufacturer's guidelines for the type of shock product you choose, either chlorine or non-chlorine shock.
Always shock your spa with the cover off and jets running to allow proper aeration and gas release.
Allow the sanitizer level to return to the recommended range before using the spa.
Establish a Regular Maintenance Schedule
Consistency is key when it comes to spa maintenance. Develop a routine schedule to keep track of tasks and ensure that you don't miss essential steps:
Test water chemistry at least 2-3 times a week or more frequently during heavy use.
Rinse filters every 1-2 weeks and deep clean them every 2-3 months.
Drain and refill the spa every 3-4 months.
Inspect equipment regularly for any signs of wear or damage.
Consult a Professional for Assistance
If you encounter any issues with your spa or need guidance, don't hesitate to consult a spa professional or your spa's manufacturer. They can provide valuable advice and support to ensure that you're maintaining your spa correctly and efficiently.
In conclusion, proper spa maintenance is essential for ensuring a safe, clean, and enjoyable environment in your new home. By following these steps, you can protect your investment and experience the many benefits of owning a spa. Prioritize safety, stay consistent with your maintenance schedule, and don't hesitate to seek professional advice when necessary. With proper care, your spa will provide you with relaxation and enjoyment for years to come.