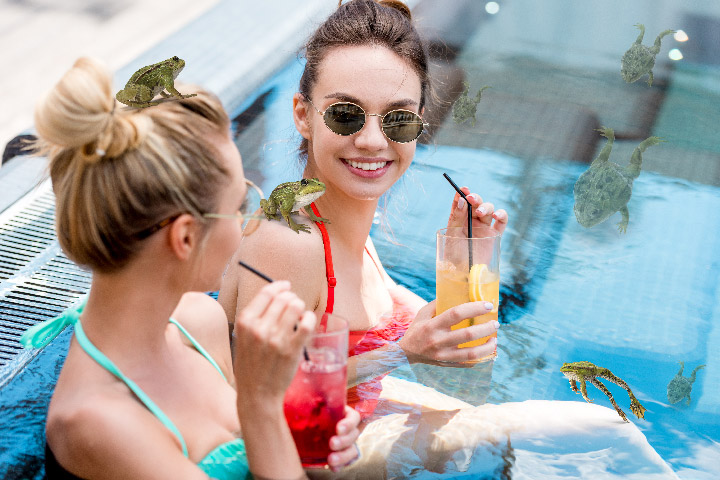 Frogs in the Pool: Causes, Solutions, and Tips for Homeowners
Frogs in the Pool: Causes, Solutions, and Tips for Homeowners
Frogs can be delightful creatures to observe in their natural habitats, but when they make a home in your backyard pool, they can quickly become a nuisance. These uninvited guests can pose risks to your pool's ecosystem, your health, and even the frogs themselves. As a homeowner, understanding the causes of frogs in your pool and the possible solutions will help you maintain a clean, frog-free swimming area.
Causes of Frogs in Your Pool
Frogs are attracted to pools for various reasons, including:
Shelter: Pools provide an ideal environment for frogs to hide, rest, and breed. The pool's walls and various nooks and crannies offer protection from predators.
Water Source: Frogs need water to survive and reproduce. Your pool's water serves as a perfect source for these amphibious creatures.
Insects: Pools are often teeming with insects like mosquitoes, which are a primary food source for frogs. These insects are attracted to standing water, where they lay their eggs and complete their life cycle.

Possible Solutions for Dealing with Frogs in Your Pool
There are several methods to keep frogs out of your pool:
Install a Pool Cover: A properly fitted pool cover can deter frogs from entering your pool by making it difficult for them to access the water. This not only prevents frogs from getting in but also reduces the number of insects in the pool.
Use Fencing: Surround your pool area with a fence or barrier that is difficult for frogs to climb or jump over. A mesh fence with small holes will also discourage frogs from passing through.
Minimize Vegetation: Keep the area around your pool clear of plants and debris that provide hiding spots for frogs. Trim bushes, mow grass, and remove leaf litter to make the area less inviting.
Install a Frog Log or Ramp: These devices allow frogs that accidentally find their way into your pool to safely exit, reducing the risk of them drowning or becoming trapped. This also helps maintain a healthy ecosystem by preserving local frog populations.
Reduce Lighting: Frogs and insects are attracted to bright lights at night. Minimizing pool lighting or using motion-activated lights can help reduce the number of frogs and insects in your pool area.
Use Natural Repellents: Some homeowners have found success using natural repellents like vinegar, citric acid, or salt in their pool to deter frogs. However, use caution and consult a pool professional before adding any chemicals, as these substances can affect your pool's water chemistry.
Seek Professional Help: If you're unable to handle the frog problem on your own, consider hiring a wildlife removal specialist or pest control professional. They can humanely capture and relocate frogs and address other underlying issues contributing to the infestation.
Conclusion
Frogs can be a charming addition to your backyard ecosystem, but they're less welcome when they invade your pool. Understanding the causes of their presence and implementing appropriate solutions will help keep your pool frog-free and enjoyable for everyone. Remember to always handle frogs and other wildlife humanely, and if necessary, consult with a professional for assistance.